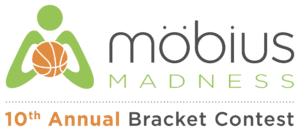 Every year we invite our customers, partners and Möbius Family to participate in our Möbius Madness online bracket contest with over $1000 in prizes.
Click here to pre-register for your bracket*.  You may start filling out your bracket on March 14th at 6pm.
Hopefully next year we'll be able to bring back our in-person events. Please let LizL@mobiuspartners.com know if you have any questions. Good luck!