Hello, everyone! Spring is around the corner, and if you're like us, you think it can't get here fast enough. This year is off to a crazy start, and March is no different: our annual Möbius Madness bracket contest and events, helping our customers on their cloud journey, more podcast episodes, hiring new Groovers and even more excitement on the horizon. Check out the newsletter below to get the scoop, and we look forward to connecting soon!
~ Jay and Junab
Register for Möbius Madness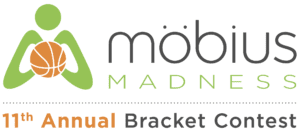 It is that time of year again! Möbius Partners is hosting our 11th annual online bracket contest AND a tri-city championship watch party in San Antonio, Plano and Houston. Don't miss out on your chance to win big! Brackets close at 11:30 am CST on Thursday, March 17th. Championship watch parties are on Monday, April 4th.
Are your data security policies putting your company at risk?
Blancco provides organizations with secure, compliant, and automated software solutions that protects end of life data and assets against unauthorized access. Each year, tens of millions of Blancco erasures allow top-tier organizations to protect their sensitive data, allowing them to safely redeploy, re-market or donate IT assets, while firmly complying with industry regulatory compliance mandates.
Are you using old school data sanitization methods? See how we can help in this video.
Journey to the Cloud
If you're like most, your organization has begun the journey to the cloud. While the providers have made it easy to use their portal and spin up workloads quickly, that often can create new problems and simply move old problems, as well.
Operations and Life Cycle Management
• Dealing with VM sprawl in the cloud is a challenge just like in your data center except now you're paying thousands of dollars a month each for them. How do you make sure the workloads there are still really needed? Your operational methodologies and tools need to automate life cycle management to ensure that you're only paying for what you need.
Data Gravity and Workload Selection
• Is the cloud really the best place for that workload? While many advantages of cloud may still be applicable like easy scaling, the cloud may not be the right choice for some workloads due to the flow of data from the workload going back on-prem. Or dependencies with other systems might have adverse on them that wasn't predictable.
Data Governance, Compliance and Security
• Moving workloads to the cloud doesn't relieve you of any existing policy and security requirements and likely has brought on new ones. Does your cloud strategy include enhanced policies and processes to ensure you're still compliant and protected?
Choosing a Cloud Provider
• AWS? Azure? GCP? Which one is the best one for your needs? Who has the best APIs? Or do you need a multi-cloud approach? Which workloads go where and how do they talk to each other? Selecting the right cloud provider is complex and understanding the full TCO of each is difficult.
If you're dealing with these concerns or others on your cloud journey, then let us help. Our Cloud Architects will analyze your business needs and establish the best strategy along with a roadmap to get there. Contact us today at info@mobiuspartners.com to get started!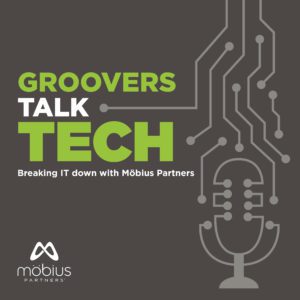 If you haven't discovered our podcast yet, you're missing out! Our latest episodes feature:
How IT Enables Mergers & Acquisitions in Healthcare    John Ragsdale, Founder and CEO of theAppPlace (TAP) Innovations, John is an M&A expert in the healthcare industry with a long track record of success. He joins to discuss why IT is the ultimate enabler for that success. Listen here.
Guiding The Next Generation of Cybersecurity Warriors – Joshua Brown, CISO at H&R Block, has been in IT for 25 years. It's safe to say he knows his way around the cybersecurity landscape. Joshua shared his view on how to adapt to change, revitalize processes, and train the next cybersecurity leaders. Click here to see episode page.
Find Groovers Talk Tech at mobiuspartners.com/podcast or search your favorite player.
Did you know we're a Minority Business Enterprise (MBE) ?
Möbius Partners is a certified minority/HUB supplier. Supplier diversity reflects positively on a company's values and demonstrates a commitment to encouraging growth, generating economic opportunities, and stimulating innovation. Our certifications include:
Click here for more information.
Join one of the Best Places to Work!
Did you hear we won the Best Places to Work by the SABJ for the 3rd year in a row? Check out the article here.
We are hiring in Houston and Dallas! We offer some of the industry's best benefits and pride ourselves on our unique culture. We are currently looking to hire the following positions:
• Presales Solutions Architect
• Account Executive I
• Senior Account Executive
Join our world-class team of Groovers today! View our job postings and more information here!
We strike the right balance between meeting clients' needs and taking time for family. We offer some of the industry's best benefits, and it is our unique internal culture of "work hard/play hard" that set us apart from other companies. Click here to see more.
We hope you found this helpful, please subscribe under the menu to the right to stay "In the L∞p."