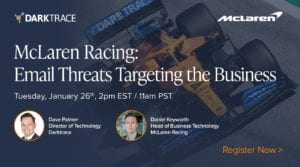 Möbius Partners would like to extend to you an invitation to join the upcoming email security seminar with the head of business technology at McLaren Racing, Daniel Keyworth, and the director of technology at Darktrace, Dave Palmer, on Tuesday, January 26th at 1 pm CST.
The discussion will explore how the email threat landscape changed in 2020, and how McLaren protects their workforce from increasingly sophisticated attacks. Including a live Q&A, this seminar will explore:
The range of email threats targeting McLaren, from fake invoices to targeted phishing campaigns
How McLaren uses AI to remain ahead of the threat
An email attack targeting McLaren's CEO that was neutralized by Darktrace's Antigena Email, as reported on by The Wall Street Journal
Register to learn more about the most significant threats targeting McLaren Racing, and how Cyber AI fights back.
Tuesday, January 26th – 1PM CST